By: David Ngwaba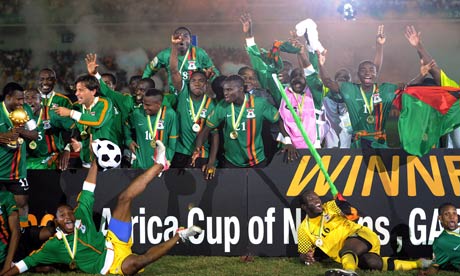 Zambia has most unexpectedly cruised past Ghana and Ivory Coast to win the 2012 nations cup final. On arrival for the competition, the
Zambians
immediately announced that they had come to win the Nations cup in honour of their first team players who died in a plane crash at the border of Gabon in 1994, while they were traveling for the tournament that year.
At the start of the tournament, no one considered the Zambians as capable of reaching the semi-finals. But they did reach and in fact beat the much favoured Ghana side by a lone goal to progress to the final. Many would consider Zambia's win as ordained by God as the Zambian keeper was able to sop a penalty kick by one of Africa's top strikers, Asamoa Gyan of Ghana, and also intimidated the internationally feared Chelsea,s striker Diedre Drobga to trow away a penalty kick during the Final match.
Although i did wish for Ivory Coast to win the tournament, i certainly cannot begrudge Zambia their victory. The Ivorians for years to come will certainly regret how they did not cease this golden opportunity to win the nations cup for the first time in their history, in the absence of African giants Nigeria Egypt and Cameron.