Nigeria Christmas Day Church Bombing !!!
David Ngwaba
A victim of the
Nigeria Christmas Church Bomb Blast
at Madala.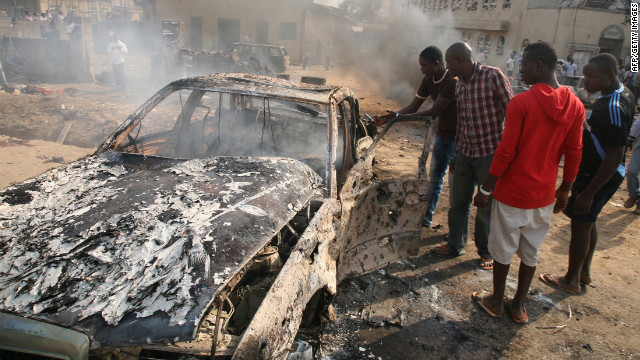 An Affected Vehicle at the scene of the - Nigeria Christmas Day Church Bomb blast
CNN
- Nigeria Christmas Day Church Bomb Blasts struck at least three churches in Nigeria on Sunday as worshippers were attending Christmas Day services, t
he first explosion struck near a Catholic church in Madala, west of Abuja, Nigeria's capital, and about 17 persons are feared dead. The National Emergency Management Agency said.
A second attack struck the Mountain of Fire Ministries church in the city of Jos,
No one was killed in the bombing, which John a journalist called a "miracle," but a policeman who engaged the attackers in a gun battle died of his wounds later, the journalist said, citing officials.
CNN
Last year the same, this year another
Nigeria Christmas Day Church Bomb Blast
? What do this fanatics want exactly? If you have something against the government why take it out on the citizens, or is this a covert tactics for carrying out a Jihad. If they are exactly against western education, why are they not bombing the universities in their place?.... what ever the case the battle is a lost cause. And they better not provoke they rest of Nigeria otherwise, Biafra for one will quickly cash in - and then without oil, we shall see how motivated these zealous brothers of ours will be.